Meet Recording Artist Mark Macri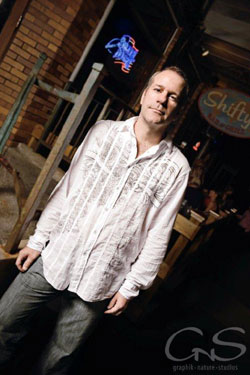 At a time when live musical performance is affected by economics and invention, Mark Macri combines the best of both of these influences. Using modern technology to supplement his keyboard and acoustic guitar playing, Mark spends hundreds of hours programming his accompaniment to have a human feel resulting in the sound of a well-grooved band. With a voice you can feel at the forefront, he delivers inspired versions of modern and classic rock, pop, funk, R&B, soul, and original songs. Mark's songwriting draws from his own deep, personal experiences dealing with love, death, and various social issues. He is one of central New York's most well-known and hardest working recording artists as well as a regularly featured talent at The House Of Blues Orlando and The Seminole Hard Rock Tampa.
Professionally, Mark started his career in 1986 in bands like The Allnighters, with whom he toured Japan and the northeastern United States. Since going solo in May 1991, Mark performed in concert with national headliners like Eddie Money, Orleans, Cheap Trick, and the Subdudes. Mark's versatility, fun personality, great sound, and fierce professionalism enabled him to excite and inspire audiences from his home base of Syracuse, New York, to Central Florida, and across the U.S. and Europe. Over the years, the Syracuse Area Music Awards (SAMMYS) recognized him with four nominations.
The turning point of Mark's career was the release of his debut CD, A Day at the Human Races. He showed no signs of stopping his creative endeavors in the studio with his sophomore CD, A Better Place. In January 2011, he released his five song EP, 10 Hands.
In addition to garnering the attention of publishing and recording executives from New York, Nashville, and Los Angeles, Mark's creative focus continues to evolve to infuse his own personal experiences into music for television and film. Coming full circle in 2012, Mark is revisiting A Day at the Human Races, sharing the life experiences and events that transpired over the 16 years since that CD's release. Discerning audiences from Central Florida, New York, and beyond continue to experience and enjoy Mark's performances. His eclectic and extensive selection of music spotlights his ease with all musical styles and all audiences.
Whether it's for concerts, clubs, weddings or private/corporate events, if you need a band with one man in demand, it's MARK MACRI.
For booking information, call 407-460-9044.